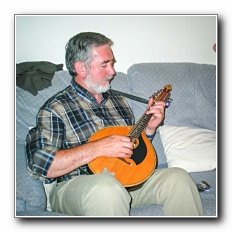 Back in the day a few friends and I would meet up on the odd Thursday night for a pint and a chat in the bar of Aidan Byrne's pub in Kilcock.
One Thursday night I heard some music coming from the lounge so I duly went to investigate.
There I saw the motley crew of musicians sitting playing away. I don't think there were any other patrons in the lounge which was not unusual as the lounge was only ever really frequented at weekends. I realised when I saw them that I knew Paddy Furlong as his good lady wife was a teaching colleague of my wife Cathy and I had known Paddy as a friend for a few years. I had also met Joe Buckley again through Cathy's friend Veronica who is Liam's better half. I also knew Dave Jolley as I had taken his photograph at some running and other events when I was working as a press photographer. So I went and had a chat and Paddy handed me a guitar and I attempted to sing a song.
The following Saturday Cathy and I were visiting Bridie and Paddy and at some point I ended up with his mandolin in my hands. After messing with it for a while Paddy convinced me to get one and join the group.
Shortly after that I found a mandolin for sale in the Buy and Sell magazine in North Dublin. So I went and purchased it for £90.00 (I think they were punts at the time). The following week I joined the Group which did not have an official name at that time. The name came later but that's another story well worth telling by someone. I remember bringing a small tape recorder to the session and recording some of the tunes to try to learn them at home. I remember at times replaying the tunes when I would sit down to practice and at various points in the recording I would get streams of profanities and the strangest sounds pouring fourth from my little tape recorder (you could write a song) which had been left on the table in the session and when I left to water the bush strange things obviously happened.
By the time I joined word had filtered out that there was a session in Aidan Byrne's Pub so a few people started to visit the pub on Thursday nights. Over time more people got to know about it and Aidan and Rita (the owners) would both work behind the bar and they eventually had another staff member working there as it became one of, if not the busiest night of the week. Previously one person only was needed on a Thursday night.
As news of the session spread more musicians joined. Some on a regular basis and some would drop in if they were passing. I remember one time a man came in and said he had a set of pipes and asked could he play a tune. Of course he was told yes and we all waited for the pipes (Uilleann we assumed) which were a rarity in our session at the time. Well, we were all taken aback when he arrived in with a set of bagpipes. Then we were shocked as he proceeded to play and almost blew the roof off the pub. I'm not sure who spoke to him but he only played one tune and we never saw him again. There are lots of memories and stories.
That was the start of my time with this group and it has been an absolute joy to be on the journey we have been on together through life. I refer to the group as my musical family as we have shared most of the major events in all our lives. The fun and crack we have had with everyone past and present has been brilliant.
I have been all over the country playing music and meeting different people in different sessions. Now any of us can go to anywhere in the country and bring an instrument and sit in to a session and have a pint and play a few tunes or sing a song. This is part of what Push for Porter has given me and long may it go on and on and on.
There are lots of other stories, so let's hear them lads and lassies.