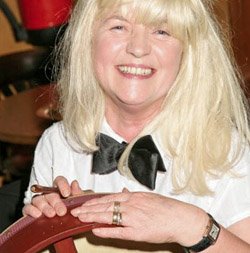 When Paddy told me he was going out to play with his new friends one night down in Allenwood I thought I would go along with him and see if they were any good.
When we got there I found I knew most of them to see around Maynooth and during a break started to chat to Dave Jolley who asked me what instrument I played. I told him I didn't play any and he then asked me if I sang to which I also answered in the negative. His next question was "What the **** do you do?" At that stage I quickly faded into the background.
The outcome of that brief conversation was that I made up my mind to do something that I had wanted to do since I was about eight or nine when I attended a local production of John B Keane's play Sive...and that was to play the bodhrán ! We had one in the house, I bought a video on how to play the bodhrán and sat down every day for half an hour until I had mastered the weapon!
At that stage they had just changed venue from Allenwood to Byrne's in Kilcock so I took my courage and my bodhrán in hand and went along and joined them. Nearly 30 years later we're still enjoying the music and the craic every Thursday night...the venue has changed a few times...people have come and gone...a few field trips to the fleadh...but the music and the craic is a constant ...and of course the friendship !