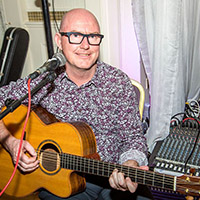 Summer 1991, Ger and I were taking part in a talent competition during Maynooth Community Festival. Frank Buckley, whom I vaguely knew and who would become a big part of my new Maynooth life, asked me would I like to join a couple of lads who had just started playing in the GAA club on Sunday night for a few songs and tunes.
Sunday night, with guitar in hand, I was introduced to Dave Jolley and Peter O'Toole. Dave, I discovered had a wealth of songs, Peter was a traditional box player from Inishturk and Frank played played banjo, mandolin, guitar, auto-harp and any other instrument he could get his hands on. We spent months playing in the corner but as soon as we had a full repertoire we began "a residency". Playing every Sunday night, full P.A.. We were getting away with murder….. Ladies and Gentlemen allow me to introduce "The Garibaldis."
We played there for few years, but Sunday nights /Monday mornings played havoc with work. So, we decided to start a singing / tunes session. Thursday nights seemed like a great idea, God only knows why…….
As luck would have it somebody knew that Con Gill, who used to work in the Roost, had opened a pub, Where? - Allenwood - and the travel to the Travellers Rest every Thursday night began.
We took turns driving, as it is a long way there and back. We sat in one corner and about 4 or 5 lads sat in another playing cards. Neither disturbing d'udder, well at least they never disturbed us. We regularly stopped off in Clane for chips and the legendary garlic mushrooms. If the chipper was closed, we just knocked on the window and they fired up the friers while we serenaded them with beautiful 3- & 4-part harmonies. I have no recordings; you'll have to take my word for it.
One evening Frank brought his brother *Mr. Buckley along. He also asked Peter to bring along his fiddle as Joe had played many years previous and it would be a great way to get Joe playing again. Now we were 5 that was 4 weeks drinking and one as Designated Driver. We were playing a lot more trad tunes and finding new (old) songs to sing.
Joe joining, as a man with a full head of hair, meant saying farewell to The Garibaldis. This was confirmed when curly locks Paddy Furlong joined in. Paddy had a great thirst, that too, for Irish music, language and songs. But loved other tunes too. I was learning how to play trad with punch and drive now.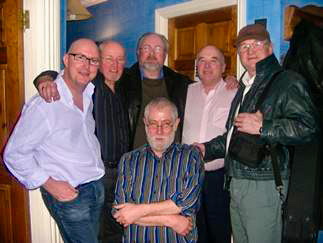 The Allenwood session now required 2 cars and a 50 kilometre round trip.
I'm not sure how long after that we decided to move closer to Maynooth. We began the new session in Byrne's, Kilcock. The rest is history.
I only ever recall the craic we had. I had spoken to Dave about a 30 year reunion. I wished I had spoken to him about a 29th now. We laughed, we travelled and made lots of close and valuable friendships that remain to this day.
PS: If you've never heard Frank Buckley's belly laugh you've missed the best laugh ever.
*Mr. Buckley was my Leaving Cert Geography teacher. Very good he was too.